WHAT PEOPLE ARE SAYING ABOUT IBT
Hi Marco,

As promised attached is the photo of Amanda, Elena and I at the top of Montesenario. We had a great ride that day, I wish all my rides were as scenic!

Cheers James & Amanda
– James & Amanda, Australia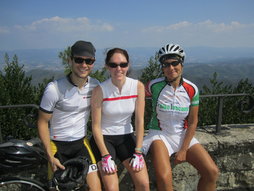 Be sure to let me know when you are going to be in Utah, and we'll mountain bike the Wasatch!!!
– Ronda Gates, Utah, U.S.A.
Thanks again for the great day in Tuscany that you provided to Elizabeth and me on June 14th. As promised, have passed your name and contact info onto some friends here in Calgary. It was a memorable day and I look forward to joining you on a multi-day tour in the next couple of years. A big hello to Elizabeth too! Grazie mille again.
– Maureen Motter-Hodgson, Calgary, Canada
Marco! Well we made it back to Chicago! We had a wonderful time in Italy and loved our bike ride. It was definitely our highlight in Florence! I hope everything is okay with you! Hope to hear from you soon!
– Brian and Beth Bentley, Chicago, U.S.A.