Let a Tuscan lead you in Tuscany!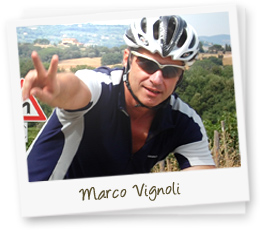 I BIKE TUSCANY! is a Florence-based fully licensed bike tour company specializing in small group or private guided bike tours around Florence, Tuscany and beyond since 2005.
And now we've added something really exciting to the lineup: ELECTRIC BIKE TOURS! If you haven't tried one, now is your chance. And what better place than on Tuscany's hills?
But whatever tour you chose, by whatever mode, we promise an experience that is special, flexible and very personalized. You can be confident that in riding with locals (and not in a large group!) you will see the very best of Tuscany and all it has to offer -- at a pace of YOUR choosing.
Florentine Marco Vignoli, a former bicycle racer, founded I Bike Tuscany. His wish is to share with you his passion for amazing scenery, adventure, great food and wine, and of course, biking. It's his belief there is no better or more exciting way to experience the singularly beautiful region of his homeland than from the seat of a "bicicletta," and so has worked hard to create some really different and off-the-beaten track itineraries that we're sure will have you believing the same.
We look forward to your joining us for a day (or trip) you'll keep in your heart, take home with you and never forget.
IBT is recommended in Lonely Planet Florence & Tuscany travel guides.
WHAT WE OFFER
WATCH OUR 10 YEAR ANNIVERSARY VIDEO! Fully guided private or semi-private tours
Pick up/drop off at your hotel/location
Van transfers at the starting point
24-Speed high quality hybrid/mountain bikes
Helmets and water bottles
Please see our Terms & Conditions policy.
CUSTOM TOURS
IBT can customize bike tours especially for you around the area in which you are staying. Also, if you wish to ride in any particular area in Tuscany or in Italy, we will be happy to organize the most suitable itinerary for you, your friends or your family.
FOLLOW US ON FACEBOOK
I Bike Tuscany is on Facebook! Visit our page or Like us to get all the latest news.