WHAT PEOPLE ARE SAYING ABOUT IBT
Thank you again for a great day. Lyne and I wish you the best, for you and your business. Your kindness made us love Tuscany and its people.
– Serge Choquette, Magog, Quebec, Canada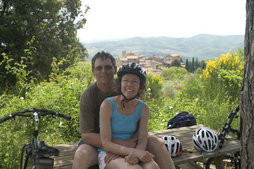 I just wanted to thank you so much for squeezing us in on short notice to bike Tuscany. It was the highlight of our Italy trip and a perfect way to end a wonderful week. I think my husband was amazed that he could bike the hills. Hopefully I can get him on a multi day trip soon.

Again, thank you so much for your hospitality and accommodating us on such short notice. The hotel pick up and drop off was an extra special bonus too!!
– Val Mendizabal
Sorry it has been so long since our trip - amazing how time flies. Todd and I just wanted to thank you for an amazing ride through the wine country. It was a wonderful way to finish off our 2 week Italian Vacation.

Also, we loved your friend's resturant in Florence, it was wonderful (down home Florence cooking).

We do hope our paths cross again. If you come to Northern California, please let us know.
– Ann and Todd Christian, California, U.S.A.
How r u? Wanted to send you a few pictures. Just wanted to let you know that I truly enjoyed your bike tour in Chianti -- it was awesome! The countryside was beautiful, the tour was well organized, and you were a great guide and fun to ride with. Oh, and I totally loved the place where we stopped for lunch.

I am hoping to come back and do one of your longer tours.
– Jennifer Silver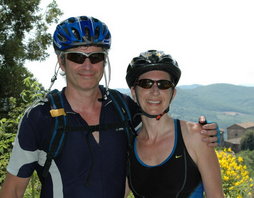 We just got back from Italy yesterday and I must tell you that our bike trip with you and Jodi was my most favorite day of all! I can't get the beautiful scenery and towns out of my head. The wine tour and tasting was like something out of a storybook!

We all truly enjoyed getting to know you and Jodie for the day. You were great (and didn't even make Tom and I feel guilty when we hitched a ride up the tough hills!)

Tell Jodie we all said hello and if you are ever in Pittsburgh, give us a call! THANK YOU FOR THE MEMORIES!
– Lucy
Thank you so much for "making" our trip to Italy so memorable! When I originally placed my booking request you replied back that your books were full. Then you came back & you were able to squeeze us in with another tour guide. We all had such a great time! The roads chosen were perfect (little traffic & so scenic!). We all agree the highlight of our 2 weeks in Italy-was the Bike-wine tour. Cheers!
– Joely and family
Thanks again for the great day in Tuscany that you provided to Elizabeth and me on June 14th. As promised, have passed your name and contact info onto some friends here in Calgary. It was a memorable day and I look forward to joining you on a multi-day tour in the next couple of years. A big hello to Elizabeth too! Grazie mille again.
– Maureen Motter-Hodgson, Calgary, Canada
I don't know if you remember me or not, but last year, July, you took me and my two daughters, Jenny and Chrissy, on a biking tour. I was just reminiscing about it and wanted to tell you once again that it was one of the best parts of our Europe trip. I got a new street bike this past spring and have been doing lots of riding. I hope to return to Italy one day, and if I do I will definitely contact you.

I have some friends from Toronto that are planning a trip to Italy and they seem very interested in contacting you about a tour. I gave them your email. I'm sure you will show them a very good time.
– Kathy, New York, U.S.A.
Marco - just wanted to let you know what a great time Tom and I had on our tour with Elizabeth last Tuesday. Her in depth knowledge of Italian wine and helpful tips on the region were great and really made our stay in Tuscany all the more enjoyable. We now go home feeling like we understand Italian and in particular Tuscan wine a lot better and look forward to putting our knowledge into practice!

We would not hesitate to recommend this tour to anyone else who loves wine combined with a bit of exercise.

Thanks again.
– Emma and Tom, London, U.K.
Just wanted to let you know how much we enjoyed our day with Elizabeth yesterday. She was great and the kids did fine. We had a wonderful time and will let our friends know about you.
– Suzanne Begley