WHAT PEOPLE ARE SAYING ABOUT IBT
Be sure to let me know when you are going to be in Utah, and we'll mountain bike the Wasatch!!!
– Ronda Gates, Utah, U.S.A.
Once again, thanks so much for a great day and a great ride. We're back home now and still reliving the trip which was perfectly capped off by the day we all spent with you in Chianti.

If you get to DC, be sure to let us know. We can bike the city and make sure you see the sights from a local's point of view.
– John Thompson, Washington, D.C., U.S.A.
We are back home, the soreness is gone and I just wanted to thank you for a fantastic day in Tuscany. I appreciated your patience and understanding and thoroughly enjoyed the day with you. I hope we can return soon.
– Harry Light, Little Rock, Arkansas, U.S.A.
I just got back yesterday from the rest of my wonderful trip.The bike ride in the hills was definitely one of the best highlights of my vacation. Thanks again for a wonderful time.

I would like to come back one day for another, longer ride!
– Amy Zielinsky, New York, U.S.A.
Just wanted to send you an email thanking you again for the wonderful excursion through Chianti country. The day was one of the highlights of our trip and is something that we will all remember.

Thanks to both you and Francesco for making the day so memorable.

PS. We tried the restaurant you suggested and the food was wonderful. Antonio took very good care of us.
– Greg Thompson
Thank you again for a great day. Lyne and I wish you the best, for you and your business. Your kindness made us love Tuscany and its people.
– Serge Choquette, Magog, Quebec, Canada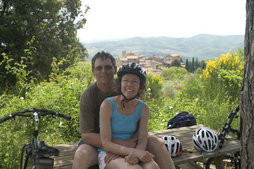 I just wanted to thank you so much for squeezing us in on short notice to bike Tuscany. It was the highlight of our Italy trip and a perfect way to end a wonderful week. I think my husband was amazed that he could bike the hills. Hopefully I can get him on a multi day trip soon.

Again, thank you so much for your hospitality and accommodating us on such short notice. The hotel pick up and drop off was an extra special bonus too!!
– Val Mendizabal
Sorry it has been so long since our trip - amazing how time flies. Todd and I just wanted to thank you for an amazing ride through the wine country. It was a wonderful way to finish off our 2 week Italian Vacation.

Also, we loved your friend's resturant in Florence, it was wonderful (down home Florence cooking).

We do hope our paths cross again. If you come to Northern California, please let us know.
– Ann and Todd Christian, California, U.S.A.
How r u? Wanted to send you a few pictures. Just wanted to let you know that I truly enjoyed your bike tour in Chianti -- it was awesome! The countryside was beautiful, the tour was well organized, and you were a great guide and fun to ride with. Oh, and I totally loved the place where we stopped for lunch.

I am hoping to come back and do one of your longer tours.
– Jennifer Silver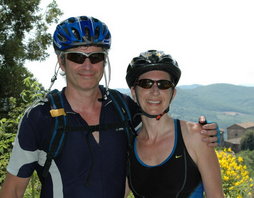 We just got back from Italy yesterday and I must tell you that our bike trip with you and Jodi was my most favorite day of all! I can't get the beautiful scenery and towns out of my head. The wine tour and tasting was like something out of a storybook!

We all truly enjoyed getting to know you and Jodie for the day. You were great (and didn't even make Tom and I feel guilty when we hitched a ride up the tough hills!)

Tell Jodie we all said hello and if you are ever in Pittsburgh, give us a call! THANK YOU FOR THE MEMORIES!
– Lucy