WHAT PEOPLE ARE SAYING ABOUT IBT
Michael & Renee Arant, Virginia, USA
Hello Marco.

I'm writing to tell you that Renee and I had a great time cycling with you in Toscana.

We will contact you prior to our trip next year to determine if we can cycle with you again!
Harry Light, Little Rock, Arkansas, U.S.A.
We are back home, the soreness is gone and I just wanted to thank you for a fantastic day in Tuscany. I appreciated your patience and understanding and thoroughly enjoyed the day with you. I hope we can return soon.
Greg Thompson
Just wanted to send you an email thanking you again for the wonderful excursion through Chianti country. The day was one of the highlights of our trip and is something that we will all remember.

Thanks to both you and Francesco for making the day so memorable.

PS. We tried the restaurant you suggested and the food was wonderful. Antonio took very good care of us.
Jennifer Silver
How r u? Wanted to send you a few pictures. Just wanted to let you know that I truly enjoyed your bike tour in Chianti -- it was awesome! The countryside was beautiful, the tour was well organized, and you were a great guide and fun to ride with. Oh, and I totally loved the place where we stopped for lunch.

I am hoping to come back and do one of your longer tours.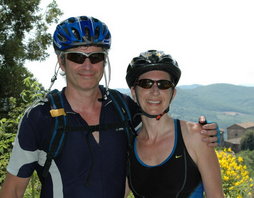 Joely and family
Thank you so much for "making" our trip to Italy so memorable! When I originally placed my booking request you replied back that your books were full. Then you came back & you were able to squeeze us in with another tour guide. We all had such a great time! The roads chosen were perfect (little traffic & so scenic!). We all agree the highlight of our 2 weeks in Italy-was the Bike-wine tour. Cheers!
Neil
I just wanted to send a note of gratitude for creating an amazing day for Lisa and I and more giving Lisa the amazing recognition on your website. It truly was a remarkable day for us and, even though you probably have countless days like it, I would hope it was an amazing day for you as well. Thank you again . . . Take care and I hope to speak with you soon.
Neil and Lisa Wieczkowski, Buffalo, NY, U.S.A.
The tour was the HIGHLIGHT of our honeymoon... Thanks so much for putting us on your site, we're truly honored. Thank you again for such an incredible day, it will be with us forever.
Janice
Thank you for such a memorable and unique day in Tuscany! We all had such a great time (although next time we need to train for your 'easy' ride ;-) ) and appreciate the trouble you went through to arrange such a delizioso lunch at a wonderful location. It is a day none of us will ever forget. It was so nice to meet you all. Thank you again.
Ann Fox, Atlantic City, U.S.A.
I can't thank you enough for creating one of the most incredible days of my life. The day spent with you biking through the most fabulous terrain, laughing with Davis and Susan and of course the wonderful meal was all priceless to me. I will be thinking of the time I can put aside to do a six day trip with you. Thanks again.
Denise & Paul Solomon, Pennsylvania, U.S.A.
Ciao Marco!

Thanks so much for the Tuscany ride... we had a wonderful ride and the scenery is beyond words. We would never have been able to see those parts of the Tuscany countryside without this bike tour. We especially enjoyed our time in Vertine. We enjoyed your company too, and appreciate your patience with us. It was a hard but fun day, well worth the effort. Thanks again!