WHAT PEOPLE ARE SAYING ABOUT IBT
Amanda & Tyler, Washington DC, USA
Hi Marco!!!!

Sorry it has taken me this long to email you the photos, but things have been a little crazy back here in DC! Anyways, I just wanted to say that the Tuscany bike ride was absolutely the highlight of our vacation... it was such a blast!!!!!

Thank you again for everything, and hopefully we will cross paths soon. We are sending everyone we know on Marco's crazy ride through Chianti.

Amanda
Jack Sherman and Patricia Buechel, Ithaca, NY, USA
Marco (and Jodie)

I don't know if you will remember us, with so many people you see, but Patricia and I were on your Chianti Tour 2 (the only two) tour on August 28th.

Out of the 3 weeks we spent in Italy - in Florence, Siena, the hill towns of Tuscany, Pisa, and Cinque Terre - we still think that our best day was the day we spent with the two of you on our bike tour. The country was beautiful, and we especially enjoyed talking with the two of you about so many things - we keep talking about Vertine, and the Abbey, and Castello di Meleto...

We used many of the dinner recommendations that Jodie so carefully wrote down for us, and they were all great. Thank you for that, as well.

I only wish we had done more biking before we came over, but I was hit with an illness a month before we came that made it impossible. Thanks again, Marco, for being so patient with me in attempts to get used to a bicycle again after so long. Once I got used to it, it was great--- really gave these old legs a good workout. Now I think I should buy a good bike here instead of running on the roads.

Anyway, thanks so much - if you or Jodi are ever near Ithaca, New York, we will be glad to entertain you here.

Good luck, Jodie, in L.A. - I may start watching daytime TV again!!
Meredith Nelson, Sullivan's Island, SC, USA
Hi Elizabeth - I wanted to say thank you again for our fabulous day in Chianti! The four of us had a fabulous time. I especially appreciate how patient you were with Paige and Michael - Paige was very complimentary of your encouragement and the way you made her feel at ease.

The rest of our trip was fantastic as well - guides in Florence and Venice, and a self-guided trek to an olive farm, San Gimingnano, Monteriggioni, and Sienna . . .all in one day! I really cant' wait to go back.
Wilkes Family (Dave, Brenda & Sarah), Toronto, Canada
Thanks again for an amazing time in Tuscany. It was the highlight of an unbelievable and unforgettable family vacation.

Dave & Brenda Wilkes
Tom and Lyly Ledbetter, Dallas, TX, USA
We landed in Dallas late yesterday evening and made it home safely before 10pm.

We would like to thank you for the amazing bike and hiking tours. That was the highlight of our trip!

We had an amazing time thanks to you! Also, thank you so much for bringing our camera to the hotel. I was so upset when I thought I lost it or possibly had it stolen. I was just thrilled to know it was in your possession. That was such a relief!

We appreciate your time and incredible service. We look forward to seeing you again in the future!

Have an excellent weekend!

Best Regards,

Lyly Ledbetter
Teri and Mike Sipko, Tampa, FL, USA
Hello Jodie and Marco!

We made it home safe and sound. What a blast we had with you two... we will treasure our honeymoon memories in our heart and you both are such a part of it. Thank you SO much for an incredible trip. I would recommend you for anyone on their honeymoon.

My best friend asked if they could hire you to drive them next year? They prefer shopping and sightseeing to biking :)

Love Teri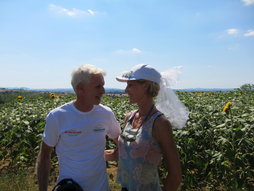 Lori McGough (and Family), USA
Hi Elizabeth,

Just wanted to drop you a quick note since we have returned to the states to let you know that our ride with you was one of the highlights of our trip!! (even though my family continues to remind me that I rode in the van more than I biked!).

It always amazes me to find out just how small the world is...... learning that you grew up in Uniontown and I in Latrobe, PA. It is a small world.

We would definately recommend and encourage any friends we have that head to Italy to tour with you and Marco!!

Best of luck to you!!

Lori
Wayne and Sue Baucino, USA
Dear Elizabeth:

Sue and I wanted to write to let you know how much we enjoyed the bike/winery tour. It was a wonderful change of pace from all of the museums in Florence, and we really had a great time riding our bikes and touring the winery. We will certainly recommend you to any friends or family that are planning a trip to Florence or Tuscany in the future.

Please also let Linda know how much we appreciate the history she gave us about Florence, as well as the opportunity to take pictures from Piazale Michelangelo.

Thanks again for everything.

With kindest regards,

Wayne and Sue Baucino
Chrissie & Brian Colmery, Santa Monica, CA, USA
Dear Elizabeth,

Sorry we didn't get this out to you sooner, but we just wanted to say Thank you for a terrific ride from Florence to Siena on April 25th. Brian and I also loved picking your brain about local wines and Siena Hill towns and sights! Overall our trip was unforgettable and so full of fun memories, but we both agree that the bike ride was one of the highlights.

We wish you, Marco and the staff of I BikeTuscany a very prosperous year, and will highly recommend booking a ride with you to anyone who is in the area looking for a great way to see the countryside and get a workout in on those hills!

Many blessings,

Chrissie & Brian Colmery
Kathy and Bob Wegner, USA
Hello Marco,

Our I Bike Tuscany tour was the highlight of our trip to Italy! We enjoyed the challenging ride through the beautiful Tuscan region as well as the two delightful wineries we toured. Now that we're home, we're enjoying the wine and olive oil we purchased that day. Marco, you were a lot of fun and we appreciated your great sense of humor! If we are fortunate enough to visit Italy again, we would love to take another, longer tour with you. Bravo I Bike Tuscany!

Thank you for taking our pictures that beautiful day. One is attached for you to see. This picture is now our computer's desktop background - making us smile every day!

Best wishes! Ciao!

Kathy and Bob Wegner