WHAT PEOPLE ARE SAYING ABOUT IBT
Poplin Family, Atlanta, GA, USA
Marco:

We just got back home from Italy and I am reaching out to thank you and Chris for the great job you did guiding us on the Sienna ride! Moreover, we really enjoyed lunch with both of you and the manner in which you personalized the entire experience.

If either of you find yourself in Atlanta, please know that you have some friends here and do let us know so we can re-connect.

Thanks again and best regards.

RP
Hsien and Moon Sun Tan, Singapore
Hi Marco,

Thank you very much for your outstanding care and hospitality during our ride to Siena. Mun Sun and I really enjoyed ourselves despite the rain. In fact, the rain made it all the more a unique experience! Thanks for being so patient, encouraging and enthusiastic. And I want to wish you all the very best in your summer adventure! Ride safe and have a blast! Maybe some day I will do it... Hope I can count on you for some advice when that day comes :-)

Take care and I also hope you are enjoying your new Emonda!!!
Shoukat and Lynn Dedhar, USA
Hi Marco

I just wanted to let you know that we had a fantastic day riding with Chris in Tuscany today. Chris is the best guide we have ever had... he was very attentive and we felt completely at ease as he was guiding. We will recommend I Bike Tuscany to our friends for sure and if we come back we will do another tour!

Thanks and best regards

Shoukat and Lynn
Bryck Family, New London, NH, USA
Hi Marco,

We miss it alreay...our hills seem EASY!

Gosh, I hope we see you again sooner than later...major highlight...kids were worried and they ALL loved it....it was a family day for the memory books and we have you and Graham to thank for it...THANK YOU!!!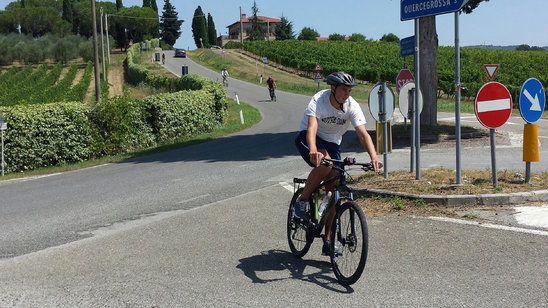 Richard and Pam Oliver, Colorado Springs - CO, USA
Dear Marco

As promised, attached is a photo of the two of us biking with your great IBT jerseys!

We were celebrating our 29th wedding anniversary, with a 3-day stay in beautiful Estes Park, Colorado, which had a pleasant bike trail loop around the lake.

Now that the weather is much warmer, we're back in the saddle again!

We hope you and your company will have a very successful summer.

Arrivederci, Richard and Pam