WHAT PEOPLE ARE SAYING ABOUT IBT
Lauren Somers & Friends, Sidney, Australia
Good afternoon Marco and Jodi

Thank you again for a super day biking in Tuscany....everyone is happily talking about it as we relax and share a glass of vino!

Thanks also to Leonardo and Graham......adding a fellow countryman to the group was very thoughtful!

Until next time....

Ciao from us all!

Lauren Somers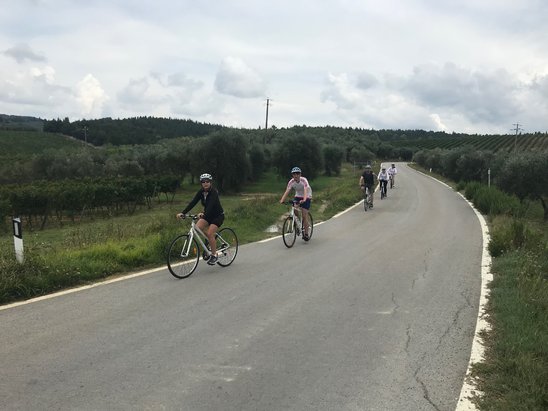 Brad and Pauline Marks, Toronto, Canada
Jodie and Marco;

Pauline and I were so happy with our biking experience and we wanted to thank you so much.

We had a great vacation and saw much of Italy but the biking experience remains the pinnacle of our trip. I couldn't have asked for anything more!

Thanks to Marco, Pauline is now known as "Pauline the Machine" with everyone we shared our stories with. From "short & sweet" to "not-so short & not-so sweet", we laugh every time we talk about biking the hills with Marco.

If ever you guys decide to come to Toronto, you better look us up. Dinner and wine on me!

PS. Please send Marco's recipe for pasta Bolognese and any pics you can share.

Brad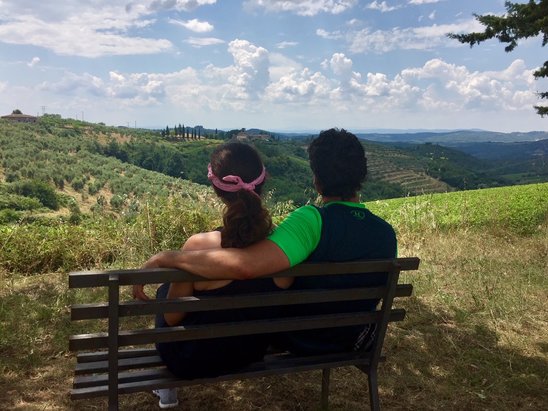 Pamela and Vince Fiano, USA
Hi Marco:

I'm not sure if you remember us, but my husband and I did your downhill to San Gimignano tour a little over a month ago. I just wanted to thank you again for an absolutely amazing experience. We visited multiple cities and did several wonderful tours during our stay in Italy, but the bike tour was by far the best and the highlight of our entire trip. Thank you so much for being so warm and friendly and sharing so much knowledge of Florence and Tuscany with us. My husband and I are already discussing when we can go back to do the bike tour in the autumn as you suggested!

Thank you again for all you did to make that such a memorable experience for us.

Pamela and Vince Fiano
Poplin Family, Atlanta, GA, USA
Marco:

We just got back home from Italy and I am reaching out to thank you and Chris for the great job you did guiding us on the Sienna ride! Moreover, we really enjoyed lunch with both of you and the manner in which you personalized the entire experience.

If either of you find yourself in Atlanta, please know that you have some friends here and do let us know so we can re-connect.

Thanks again and best regards.

RP
O'meeghan family, New Zealand
Good morning Marco and Jodie,

A huge thankyou to you and Jodie for a fabulous day on Tuesday for our family. Thoroughly enjoyed by all of us. Appreciate your care and attention of us all day to ensure we had the "best day". Happy memories in Tuscany!!!

Kind regards The O'meeghan family.
Liz, George, Sandy, Kirby, Ani & Carter, Seattle, WA, USA
Marco and Chris, Thank you again for a really wonderful day! The tour was everything we hoped for. Such a treat to see the countryside that way, and you were such great hosts!

All the best,

Liz, George, Sandy, Kirby, Ani & Carter
Kristy and Marcus Mathes, Portland, OR, USA
Jodie,

We just wanted to pass along our thanks for a wonderful trip. We both agree that the bike tour was the highlight of our trip, and one of the best vacations we have been on. It was so beautiful and fun and indulgent. It couldn't have gone smoother and we had a great time with Marco. Thank you for making or honeymoon so special. We would love to see the pictures that he took of us during our trip if you could send them to us.

Thank you, Kristy & Marcus
Jill Andersons, USA
Dear Elizabeth,

I just wanted you to know the day we spent with you was a highlight of our trip. We were so pleased to have you guide us - you gave us confidence and a wonderful experience. Thank you.

Sincerely,

Jill Andersons
Hsien and Moon Sun Tan, Singapore
Hi Marco,

Thank you very much for your outstanding care and hospitality during our ride to Siena. Mun Sun and I really enjoyed ourselves despite the rain. In fact, the rain made it all the more a unique experience! Thanks for being so patient, encouraging and enthusiastic. And I want to wish you all the very best in your summer adventure! Ride safe and have a blast! Maybe some day I will do it... Hope I can count on you for some advice when that day comes :-)

Take care and I also hope you are enjoying your new Emonda!!!