WHAT PEOPLE ARE SAYING ABOUT IBT
The Neid Family, Denver, CO, USA
Hi Jodie and Marco,

Thank you for a wonderful trip to Italy. We arrived home last night, happy and tired, after an amazing experience. Thanks for a week of biking, sightseeing and enjoying delicious food and wine.

Here are a few pictures to remember us by.

Keep in touch.
David Miller, Montreal, Canada
Thanks guys I had a great time!

Marco - Dolomites look awesome and I hope to do them within next couple of years (next year might be a grand fondo in Barcelona or a grand fondo going up Ventoux) but definitely have added Dolomites to list and if I do make it back to ride in Italy it will definitely be with you guys!

Dave
Randy and Susan, Irvine, CA, USA
Ciao Marco and Jodie,

We are back home and now would like to thank you and let you know what a great, memorable experience we had on our Tuscan bike tour.

The expert advice and bikes we rode were perfect. We loved the bike tour showing the beautiful Tuscan countryside, the stops along the way and the winery we visited.

Thank you so much for the wonderful friendly support and experience. The restaurant, winery and other stops you selected made our experience extra special.

We would strongly recommend others, no matter what your bike skills are, to a single or multi day bike tour.

We are looking forward to doing another bike tour with you soon.

From your California riders Randy and Susan
Nancy, Denton and Collin Wiginton, Houston, TX, USA
Marco -

We had the most fabulous time on our ride - it was a perfect day! You are a great tour guide and this was a great way for us to see the beautiful Tuscan countryside. We really enjoyed the gelato making demonstration too. This was one of the best days we have ever had and we will never forget it!

I attached some pics for you. If we are in Tuscany again we will definitely book with you again. Thanks for a wonderful experience!

Regards,

Nancy Wiginton
Rebecca and Jay Roche, USA
Marco!

We can't thank you enough for such an amazing time on Tuesday! Thank you thank you for everything! Your encouragement makes me want to ride much more and perhaps, race someday soon!

We had a fabulous time and we will be talking about that experience for years to come. Hoping we can some day bring our kids on a tour.

With much gratitude, Rebecca and Jay
Michael & Sally Chapman, Wickham, UK
Hi Marco & Elizabeth,

Our 'Chianti 1' ride was the absolute highlight of our recent trip to Florence -I loved every minute and even Sally, who is not a fan of hills, enjoyed the ride tremendously. It has given her lots of confidence for our cycling holiday in France later this year.

Elizabeth was a fantastic host and made our day perfect -Greve was just lovely (and a great butcher's shop) and the restaurant for lunch was fantastic, especially her wine recommendation!

Many thanks for a great ride in the most perfect of surroundings.

Michael & Sally Chapman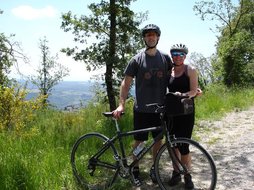 The Wilkening family, Denver - Chicago - Houston
We're safely in Milano, we've redistributed all the balsamic and have our tickets for the train to the airport. Thanks for helping us get onto the earlier and faster train.

The tour with you was wonderful. It was a perfect experience for us together, with everyone feeling good about what we did and where we went. Your warmth and attention is quite special. Anya, the reluctant cycler is ready to take a cycling trip again. Reid has the bug to climb hills in Tuscany, and is likely to work harder still to earn a berth on his lab's delegation to a meeting in Sienna next year in order to have a chance to ride with you.

I suspect that many clients tell you this, but I'll tell you regardless​ ​- if you are in Denver, Chicago or Houston you have a place to stay, and friends to sustain you.

Thanks again! Greta
Sean, Bernadette, Teresa and Gerard Eustace, New York, USA
Hi Marco Sorry this took so long but we went right back to work and had no time. Just wanted to say thank you so much it was one of the highlights of our trip. Take care. Bernie
Edite Tsevi, Jerusalem, Israel
Hi Marco & Jodie,

Thanks for making our four day Val D'Orcia Dream Casual Tour memorable beyond our expectations. All that was promised was delivered and more!!! Robin, Lian and I were smiling ear to ear the whole time!

Jodie, as our pre-ride contact person, helped us pick the right tour for our budget and scheduling needs. And Marco, your expert advice gave me the confidence needed to enjoy the biking, Tuscan style. You tailored this private tour to our capabilties and gave us red carpet treatment! I hope to book with you again in the future. By the way, my husband's brother and girlfriend had a great ride around Florence with Elena on one of your single-day tours this last week and I was envious!

Thanks again for a wonderful bike trip and remember your invitation to stay with us in Jerusalem.

Edite Tsevi, RD
Eric and Patsy, Montréal, Canada
Hello Marco !

(In french-En français) Voici la photo que tu as prise de nous sur les vélos dans la merveilleuse région du Chianti en Toscane...

Merci encore pour cette mémorable journée,

Éric Archambault & Patsy Nicholson de Montréal !